This Irving-based craft pepper company wants to disrupt the condiment industry
By Dallas Business Journal
"In 2018, Greg and David Figueroa decided they wanted to transform their small craft pepper company into one of the top six hot sauce brands in the world. 
Greg called David who was living in Louisiana at the time and told him he wanted to start a new sales plan to make Melinda's Foods a worldwide contender after David moved to Dallas. He laid out what he wanted. David started working on the designs, and the brothers worked with their dad to formulate a business plan to make Melinda's a national brand.
The pair didn't have trouble raising capital. They were able to raise the first round of funds within two weeks and close a second round soon after. Melinda's also added new squeeze bottles to its product offerings, and within a year of executing their sales plan, the brand saw revenue grow from $1.5 million to about $4.5 million. 
Now, Melinda's is focused on continuing the momentum it's seen in the last six years. The company recently expanded its offerings at Walmart and added five ketchups and three sauces to its collection. The products are available in Walmart stores nationwide and online.
"Our goal is to continue to grow," Greg said. "In IRI data, we're in the top 12 to 13 hot sauce brands. We consider it our competitive set. Our goal is to move into the top eight to top 10 in the next 24 months. That would pass our sales out over 50 million by 2024."
David and Greg were worried the pandemic would set back Melinda's growth, but the opposite happened.
The company received an opportunity to display their products in a variety of retailers for a trial period of three months before COVID hit. The brothers worried that their slots would be replaced with essential products such as hand sanitizer, toilet paper and cleaning supplies. But as more people began cooking from home, condiments like hot sauces became necessary items.
The company upheld its trial period and was able to extend the timeframe due to demand. As a result of the amplified brand awareness, Melinda's saw its revenue double to almost $8 million in 2020 and again in 2021. The company continued to grow at a rate between 100% to 200% in 2022 and is expected to generate over $30 million in revenue this year.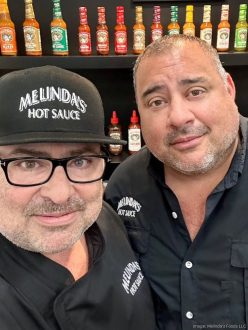 Founded in 1989, Melinda's is a conglomerate of flavors and offers 32 craft pepper sauces and condiments. The brothers always wanted to work together. Only a year apart, they used to share a bedroom growing up and have always been close, so David was ready to join forces when Greg had the idea to launch Melinda's.
Their passion for food and entrepreneurship comes from their parents. From a young age, David wanted to make food and follow in his mother's footsteps, who always served as the main cook of the family. The brothers also grew up washing dishes, flipping chairs and bussing tables at their father's restaurant.
"We played on the same teams together," David said. "We always worked well together. I played defense. He played offense…We learned to lead by example (and) having good mentors around us. We learned a lot from our father in business and our mother."
Their skill sets complement each other, and they each lead different areas of the organization. David is focused on the marketing and advertising side of the business while Greg leads the administrative and manufacturing side of the company.
RECOMMENDED
They don't often meet daily unless it's to brainstorm strategies for new product launches, packaging and the direction of the brand. Once they establish a strategy, they each take their teams and execute the plan.
"Because we lead in two different areas of the company, the marketing side and the administrative side, we really don't cross paths much other than coordinating (budgets and strategies)," Greg said. "…From the logistics operations, manufacturing and human resource side of the business, I'm running all that. He does play a day-to-day role in that. He depends on me to do what I do well, and I depend on him to execute."
When the pair first began marketing Melinda's, they took it to every bar and restaurant they could. Their first distributor found the brand at a restaurant they left a bottle at, and the first supermarket to display their items was a local New Orleans store.
Now, Melinda's can be found in most major retailers in the state and nationwide including Kroger, HEB, Central Market and Tom Thumb.
"We've been hoping and praying to get stronger," David said. "We're strong in Texas. We're starting to pick up in southern California. We're stronger in the Pacific Northwest. We're really strong in the Denver area, and growing the top six markets has been part of (our) strategy."
Melinda's big push right now is food service, Greg added. The craft pepper company aims to be in major restaurant chains in the next few years.
Although they sometimes worry about competing against larger brands, Melinda's is determined to keep its shelf space and continue creating diverse multi-dimensional products. Credited with making habanero a household word, the company is used to being at the forefront of new flavor trends.
"They do control a lot of shelf space, and they're multibillion dollar companies," Greg said. "They either crush you, or they try to buy you at some point. I think there's going to be a line of big CPG companies to buy Melinda's in the future."