Concertgoers to get free pepper sauce at select shows beginning July 1
The Mollys Form 'Naturally Hot' Partnership With Melinda'sDallas, TX (RestaurantNews.com) Anyone who's ever seen The Molly Ringwalds in concert knows that the boys from Sheffield, England, know how to put on a hot show.
Well, they're about to get even hotter.
When Greg and David Figueroa, brothers from New Orleans and co-owners of Melinda's Passionately Crafted Pepper Sauces, approached their favorite '80s tribute band about spicing things up a bit, they didn't realize the admiration was mutual.
"Most of us have been splashing Melinda's on our food for years," said Platinum Randi Wilde, lead guitarist and vocalist for The Molly Ringwalds. "So when the Figueroa lads asked if we were interested in teaming up, we were bloody pumped. Of course, we started by loading up our tour bus with all the hot sauces and spicy ketchups we could get our hands on!"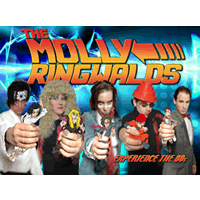 But the Mollys didn't forget their fans. In fact, the band will be giving away FREE bottles of Melinda's hot sauces at each of their concerts, beginning July 1. (Subject to the approval of each venue.)
"Over the years, we've learned that when you try Melinda's, you'll buy Melinda's; so we're excited that the Mollys will be sharing our 'Naturally Hot' sauces with their legions of passionate fans across the country over the next year," said David Figueroa, Melinda's co-founder and head of brand marketing. "Greg and I have been huge fans of the band since we saw them at the Southport Hall in New Orleans in 2009. They put on a helluva show, and we hope their fans appreciate leaving not just with great memories of the 'Ultimate '80s Experience,' but also with a special, spicy gift from the band and us at Melinda's."
About Melinda's
Melinda's hot sauces are expertly crafted to perfectly balance heat and flavor. Derived from vegetables and fruits – unlike most sauces that are primarily vinegar – they are Kosher-certified and contain no artificial preservatives or colors, zero gluten and no GMOs. Melinda's hot sauces pack the heat at four different levels – X for Hot, double X for Extra Hot, triple X for XXXtra Hot and four X for the XXXX Reserve – giving fans the options that are best for them and what they're cooking. To find a retailer or restaurant with Melinda's near you, click here.
About The Molly Ringwalds
The Mollys Form 'Naturally Hot' Partnership With Melinda'sHailing from Sheffield, England, this legendary quintet has been able to combine their individual and very formidable talents to create the true essence of the most radical decade to ever be called "The 80's." The Molly Ringwalds create an 80's Experience by honing their abilities to apply make-up and tease their hair while showcasing all the musical genres of the decade. From their days of building a following at a pub located in a large portion of a big city near a small village located south of a place you've never heard of, to selling out large venues in the United States, The Molly Ringwalds are an indescribable act. Luck and circumstance brought these young lads together. The rest is the history of the 80's.